We arrange the best Tempo Traveller in Tirupati with different seating capacities like 12 + 1, 17 + 1, 25 + 1. You can book it based on the number of traveling passengers and based on different occasions. Few families or office colleagues join together and plan for a small excursion, or attend some function in a different location. Tempo Traveller is one of the best and budget-friendly vehicles for such people. It is a kind of minibus which is very comfortable for long journeys. We fulfil this requirement by arranging a Tempo Traveller in Tirupati. When passenger size is more than 9, Tempo Traveller is the best option to pick. Instead of booking two Innova cabs, booking one single Tempo Traveller is budget-friendly and all passengers can travel together as well. And the best advantage can be that all of you can be at the same place as a group when you go for lunch/ dinner or when you go for sightseeing. We arrange Tempo Traveller from Tirupati to all over south India. Below are the different packages.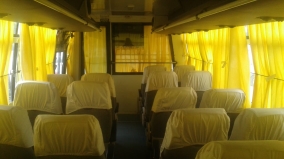 Tempo Traveller Booking in Tirupati
Call us on +91-9700043215/ +91-9700043216 and provide us your trip details.
We suggest you to book at least two days prior to your journey, such that, we can block suitable vehicles and drivers for you.
30% of the advance needs to be paid while booking the vehicle.
The balance amount can be paid after service.
Tempo Traveller Price in Tirupati
18/- per Kilometer if travel distance is above 250 KM.
2800/- as rent per day (10 to 12 hours) and diesel price (1 litre per 8 km)
Clear package details will be provided if the source and destination are given clearly.
Tirupati To Kanchipuram Tempo Traveller
Thiruttani will be covered on the way to Kanchipuram and total kilometres comes around 220 KM. Journey time takes around 6 hours for a round trip and approximately 2 hours of time for darshan.
| Details | Amount |
| --- | --- |
| Vehicle Price | 5700/- |
| State Tax | 1500/- |
| Parking | 300/- |
| Total | 7500/- |
Note: Temples in Kanchipuram will be closed from 12 in the afternoon to 4 PM.
Tirupati To Vellore Golden temple Tempo Traveller
We cover Srinivasa Mangapuram and Kanipakam on the way to Golden temple. The total journey distance is around 270 KM and takes around 6 hours to complete, which excludes the darshan time in all the temples. The time taken to finish darshan in all the temples combinedly is 2 hours 30 minutes approximately.
| Details | Amount |
| --- | --- |
| Vehicle Price | 5700/- |
| State Tax | 1500/- |
| Parking | 300/- |
| Total | 7500/- |
Tirupati To Tirumala Tempo Traveller
We pick you from Tirupati and take you for Lord Balaji Darshan. The total distance comes around 70 KM and traveling time will be around 1 hour for going one side from Tirupati to Tirumala which includes the waiting period at the checkpoint which is just before entering to Tirumala hill area.
| Details | Amount |
| --- | --- |
| Vehicle Amount | 4000/- |
| State tax | N/A |
| Parking | 300/- |
| Total | 4300/- |
Note: The maximum seating capacity bus allowed from Tirupati To Tirumala is 12 + 1 Tempo Traveller.
Tempo Traveller from Tirupati to Vellore, Arunachalam, Kanchipuram and Tirupati
It is a program for two days and distance comes around 550 KM. Based on your flexibility, you can either have a night halt either in Arunachalam/ Tiruvannamalai or else in Kanchipuram.
| Details | Amount |
| --- | --- |
| Vehicle Amount | 11400/- |
| State Tax | 1500/- |
| Parking | 700/- |
| Total | 13600/- |
State tax is valid for 1 week in Tamilnadu.
Driver food expenses need to taken by customer.