Do you know, what makes Tirumala, a most visited pilgrimage destination in India? The definite reason is the magnetism of the presiding God Lord Balaji, who is considered as Kaliyuga avatar. But there are some other reasons which make Tirupati, popular among pilgrims who seek spiritual bliss. That is the because of the wonderful and systematic way in which TTD (Tirupati Tirumala Devesthanam) manages the whole gamut of services that are being offered to the pilgrims. The greatness of this organization can be seen in the vast physical infrastructure created by them in Tirupati and Tirumala and in the great way it manages the huge crowd that throngs Tirumala hill on daily basis. It is a herculean task to provide the multitude of services to thousands of pilgrims at minimum cost and with minimum discomfort. That is possible only due to 50000 odd TTD employees always there to serve the people and the result can be seen in the clean and secure environment that is maintained on the Tirumala hill always, and particularly on the days of an annual festival like Bramhotsvam. And the good part is that TTD has been evolving for many years and in many ways to serve the pilgrims, striving to provide the best facilities and amenities to them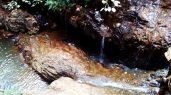 Tirumala local sightseeing packages with our Taxi
The journey distance from Tirupati comes around 130 KM including all sightseeing. And based on darshan timing it comes around 6 to 8 hours. Pilgrims who visit Lord Balaji has to plan for surrounding places. We are well known with all the places around and we make your Tirumala journey more memorable. We pick you from Tiruptai railway statoin, Bus stand, any other locality in Tirupati. Below are pricing details
| Vehicle Type | Seating Capacity | Price |
| --- | --- | --- |
| Sedan (Etios/ Dzire) | 4 + 1 | 3120/- |
| Minivan (Innova) | 7 + 1 | 3620/- |
| Minivan (Innova Crysta) | 7 + 1 | 3800/- |
| Minibus (Traveller) | 13 + 1 | 5062/- |
Above charges includes all like fuel, driver batta, parking and toll.
Only one trip per day to Tirumala and other extra trip will charged extra.
A/C will be turned off in Tirumala ghat section.
Vehicle will be assigned 12 hours per day. Extra hour is charged 100/- for Dzire and Etios, 150/- for Innova, 200/- for tempo traveller.
Tirumala sightseeing places
Silathoranam
Sri vari padalu
Papa Vinasanam
Venu gopala swamy temple
Akasaganga
Japali