TIRUPATI BALAJI TEMPLE CONSTRUCTION FOR THE FIRST TIME: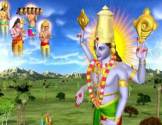 The Lord Maha Vishnu whose abode is Vaikunta (amidst an ocean of milk) incarnated on earth as Lord Venkateshwara for the sake of his devotees. About 17 crore years before, Lord Venkateshwara (also called Srinivasa) entered Venkatadrinilayam, which is part of divine seven hills. After entering Venkatadri, lord Srinivasa asked lord Apara Bramha and divine architect Viswakarma to build a temple for him on this hill.
The Viswakarma had built the temple using a thousand pillars and with wonderful architecture. He built the temple in the place where the temple resides right now. He built the temple in a very auspicious time when Lord Surya Bhagavan (Sun) entered Kanya Rasi (Virgo) and Lord Chandra Bhagavan (moon) entered Sravananakhatram. The temple was inaugurated with 1000 sunlights shining, while lord Venkateswara entered into Viswakarma's creation along with his consorts Sridevi and Bhudevi in a Swarnavimanam (golden airplane). To grace this wonderful occasion of Lord Venkateswara's entry into the temple, Lord Bramha came with all 3 crores gods and great saints.
As centuries passed, the temple built by Viswakarma was destroyed due to natural catastrophic happenings.
LORD VENKATESWARA SWAMY TEMPLE CONSTRUCTION FOR THE SECOND TIME:
At the end of Dwaparayuga and starting of kali yuga, the temple was rebuilt for the second time. As mentioned in Astagatha Purana, the emperor named Thondaman with built Lord Venkateswara's temple with two gopurams(Towers) and three Prakarams. That is the time when Saint Veda Vyasa divided Vedas into 4 parts called Rughvedam, Yajurvedam, Sama Vedam and AdarvanaVedam.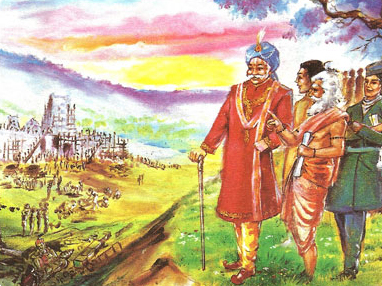 TIRUPATI TEMPLE CONSTRUCTION FOR THE THIRD TIME:
As per the history, 1900 years ago, the present temple at Tirumala was reconstructed by Saint Bhardwaja. The story goes like this, Lord Venkateswara appeared in the dreams of two people at the same time one person is a Brahmin called Gopinath Deekshitulu and other person is a Yadav. In the dream, the Lord told them to find his statue at the north phase of Puskarini under a tamarind tree on the Vekatadrihill and asked them to keep it at the same place. Overwhelmed by the Lord appearing in their dreams, they started searching for the lord Venkateswara's statue at the place mentioned by the lord in the dream. Finally, they discovered the Lord's statue buried in the sand under the tamarind tree. After pouring sacred cow milk to dissolve the sand covering the statue, they unearthed the statue of Lord Venkateswara. So, with the help of great saint Bharadwaja, the temple got reconstructed at the same place where the temple resides now. Even though thousands of years passed, there is no deviation of place where Lord Venkateswara got established. People visiting Tirumala and paying homage to the presiding God Venkateshwara feel extremely happy and try to visit again and again.