Tamil Nadu is well known all over the world for being home to numerous temples that hold immense significance in the lives of Hindus. Most of these temples are UNESCO world heritage sites and are definitely worth your time, since the sheer beauty, aura and the might is unparalleled. Not just the temples, the ambience and the multitude of activities that this place has to offer are truly remarkable. Our Tirupati with Mahabalipuram tour package takes you across some of the most whimsical sites in Tamil Nadu that will definitely catch you by surprise.
Mahabalipuram or Mamallapuram is an ancient port city in the Kancheepuram district of Tamil Nadu and one of the oldest cities in India. Once a bustling seaport and a busy trading center, the place is now one of the major tourist attractions near Chennai. Mahabalipuram has a rich history and heritage that is well-preserved to date and speaks volumes of its glory. Present day, Mahabalipuram is known for its great monuments, cave sanctuaries and sculptures.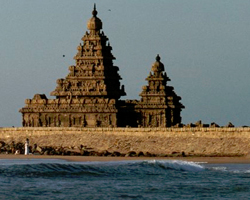 How To Reach Mahabalipuram
Nearest Airport: Chennai Airport (58 km). You can drive from Chennai, or hire a cab, or take one of the several buses that shuttle between Chennai and Mahabalipuram. It can be reached in under two hours by road.
Nearest Railway Station: Chengalpattu Railway Station (29 km) and Chennai Railway station (58 km). On alighting at the station, a cab or a bus can be boarded to reach Mahabalipuram.
By Road: Mahabalipuram available daily from Pondicherry, Kanchipuram, Chengalpattu and Chennai to Mahabalipuram and well connected through all the major cities and buses.
Best Time to Visit Mahabalipuram:
Mahabalipuram Situated on the shores of Bay of Bengal, has a moderate and humid climate round the year. Though it can be visited throughout the year, summers get pretty hot. Some travelers venture out in monsoon, as monsoon brings in a fresh look to the place. visit during the cooler months of October through March is the best time remarked by most votes.
Place to visit in Mahabalipuram:
To be visited, there are many places around mahabalipuram
Cholamandal artist's village
Dakshina Chitra
Muthukadu
Crocodile and Snake Bark
Chengalpattu
Kanchipuram
Kovalam
Mudaliarkuppam
Thirukkalukundram
Tirupporur
Vandalur and Vedanthangal.
Places Around Mahabalipuram:
Around Mahabalipuram There are several tourist attractions that can be visited by tourists. In close proximity to Mahabalipuram Some of the popular places that lie are:
Cholamadal Artist's Village (around 35km away)
Chengalpattu (around 30km away)
Mudaliarkuppam (around 38.2km away)
Nithyakalyanaperumal Temple (around 16.7km away)
Sadras (around 52km away)
Thirukalukundram (around 15.2km away)
Taxi fare from Tirupati/ Airport/ Tirumala to Mahabalipuram
Vehicle Type
Seating Capacity
Price
Sedan (Etios/ Dzire)
4 + 1
12/- Per Kilometer
Minivan (Innova)
7 + 1
16/- Per Kilometer
Minibus (Traveller)
13 + 1
22/- Per Kilometer
Note 1 : Minimum 300 KM amount will be charged per day.
Note 2 : Tamilnadu state tax, Toll and parking are not included in above price.